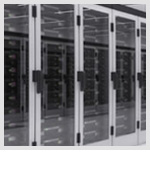 When you need a stable and secure home for your data servers , Nexlinx provides the colocation services to help you keep your servers running and connected to the internet , without having to worry about power outages.
Nexlinx provides a Data Center facility to co-locate your application, web and mail servers at our Gulberg facility in Lahore. Server colocation basically refers to co-locating your server hardware at a Data Center and paying only the rental charges for rack space, cooling, and bandwidth. Colocation service is ideal for those who already possess the infrastructure and need a physical location to host it.
With server colocation, you can migrate your servers from your current location to our Data center and eliminate the headache of running generators and avoid associated fuel costs. Nexlinx though its colocation services can help you assure a guaranteed 99.99% uptime for your servers , as well as help you save the costs of running the infrastructure yourself.
Our Data Center can easily accommodate 1U, 2U and 4U rack-mount or blade servers. In case of custom requirements, we also offer Quarter, Half, or Full Rack cabinets to serve your colocation server requirements.