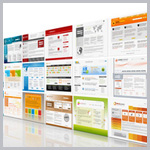 Before you start building a house, you need to acquire an appropriate piece of land to build on, similarly when someone needs to build their web presence, an appropriate domain (location) has to be registered to serve as the location of your home page.
Nexlinx provides comprehensive Domain Registration services to its clients looking for their new home on the worldwide web. Typically Domains are registered for a period of 1-2 years and must be renewed before their expiry.



For further information regarding domain registration, Please contact us at This email address is being protected from spambots. You need JavaScript enabled to view it.
Domain Parking
Sometimes you want a specific domain , but do not wish to build your homepage on it. Instead you need to ΓÇ£ParkΓÇ¥ it till the time you are ready to build your website. Nexlinx provides free parking services to all domains registered through us .


DOMAIN SCAM ALERT
WARNING : Please do not get fooled by cheap domain registration services , as these services register themselves as domain owners and exploit the unaware public by charging high retention and hosting fees at the expiry of the initial term . Such schemes also do not allow the transfer of domains to any other hosting provider. Nexlinx registers and manages domains on behalf of beneficial owners and gives full rights to the actual domain owners to whether host on our network or anywhere else in the world.